The challenges, impact and solutions to
troubleshooting software failures
Software is now an integral part of the business landscape; but as systems become more complex, troubleshooting production failures is becoming increasingly challenging.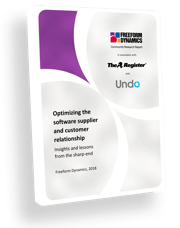 A new study commissioned by Undo and carried out by analyst firm Freeform Dynamics, in partnership with The Register offers some insights into how software failures are really impacting customer relationships and business.
70% of respondents acknowledge that software reliability/availability is important. Yet few know how to handle these situations effectively.

This report covers:
The disruptive potential of different types of software failures
Challenges associated with intermittent failures
Troubleshooting software issues in a production environment
Advanced diagnostic solutions to speed up time-to-resolution
Fill in the form to get access to the report and get new insight into how to make complex software more reliable >>>