Software Flight Recording Technology
How does it actually work?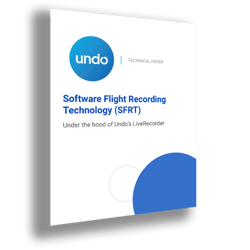 Why is your software behaving in an unexpected way?
It's a difficult question to answer and the whole reason why software engineers spend half their time debugging!
To get some insight into the murky world of process failures, Undo has pioneered a new kind of failure diagnostic technology based on Software Flight Recording Technology (SFRT).
SFRT works in a similar way to an aircraft flight recorder; but instead of recording the state of an aircraft system, Undo's flagship product - LiveRecorder - records what your software actually does as it executes. The result is greater observability of your code and accelerated root cause detection and bug resolution.
Find out how LiveRecorder works under the hood and how this next-gen technology enables software engineers to speed up debugging and build more reliable and robust software.