Vanquish your growing backlog of failing tests
Don't knowingly release a disaster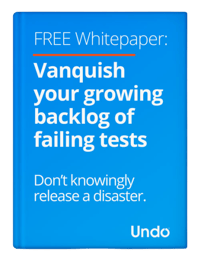 With ever-increasing complexity and interdependence of systems, software failures are becoming ever harder to fix. Worse, some of them could be a disaster waiting to happen.
Are you left with a growing backlog of un-diagnosed failing tests and you don't know why?
Record and replay technology offers a new approach to debugging that eliminates guesswork entirely and makes the most intermittent of failures 100% reproducible.
Find out how you can reduce your backlog of failing tests and quickly diagnose software defects before they cause havoc on customer site. Download the whitepaper now!