Concurrency Defect Resolution Best Practices
New techniques to help find and resolve more multithreading and multi-processing defects, faster.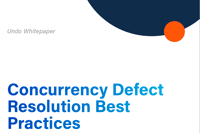 Multithreaded and multiprocess application architectures help improve performance, but they also increase the risk of challenging concurrency defects such as deadlocks, race conditions, read-before-writes. This paper describes concurrency defects as well as the best practices and technologies for finding and resolving them.
Best

practices outlined include:
Software execution recording - 100% reproducible defects
Thread fuzzing to reveal more multithreading defects
Multiprocess correlation for shared memory access