Concurrency Defect Resolution Best Practices
New technologies and techniques to help debug multithreading and multiprocessing defects faster.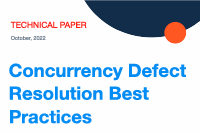 Multithreaded and multiprocess application architectures help improve performance, but they also increase the risk of challenging concurrency defects such as threading deadlocks, multithreading race conditions, read-before-writes, and shared memory corruption. This paper describes concurrency defects as well as the best practices and technologies for finding and resolving them.
Best

practices outlined include:
Software execution recording - 100% reproducible defects
Thread fuzzing to reveal more multithreading bugs such as race conditions, and deadlocks.
Multiprocess correlation to help debug shared memory corruption more easily.