10 Tips to Accelerate Time to Resolution of Software Defects
Advice from Senior Engineering Leaders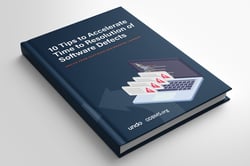 Commercial pressure means software development teams are having to make trade-offs between code quality and shipping new features. And no matter what preventative measures we take, bugs always end up slipping through into production.
This book explores what senior engineering leaders building complex enterprise software systems do when the bug reports come in.
What you will get:
Tips from senior engineering leaders on how they reduce Mean Time to Resolution (MTTR) - allowing them to reduce engineering costs, accelerate delivery, and deliver a first-class customer experience
Interviews with engineering Directors, Managers, and VPs from enterprise organisations like IBM, Salesforce, Intuit, SAS, Mentor (a Siemens business) and more
Bonus insight and resources, courtesy of Undo's Founder & CTO Dr Greg Law
Preface by Prof. Roberto V. Zicari, editor of ODBMS.org


Note: no one has time to read a novel at work; so the data is a presented in a digestible format for a quick and easy read.

Published on Amazon
Pu